Mediengestalter/in Digital und Print - Beratung und Planung (m/w/x)
Advancis Jobportal
Grafik, Design
Marketing / Kommunikation / Redaktion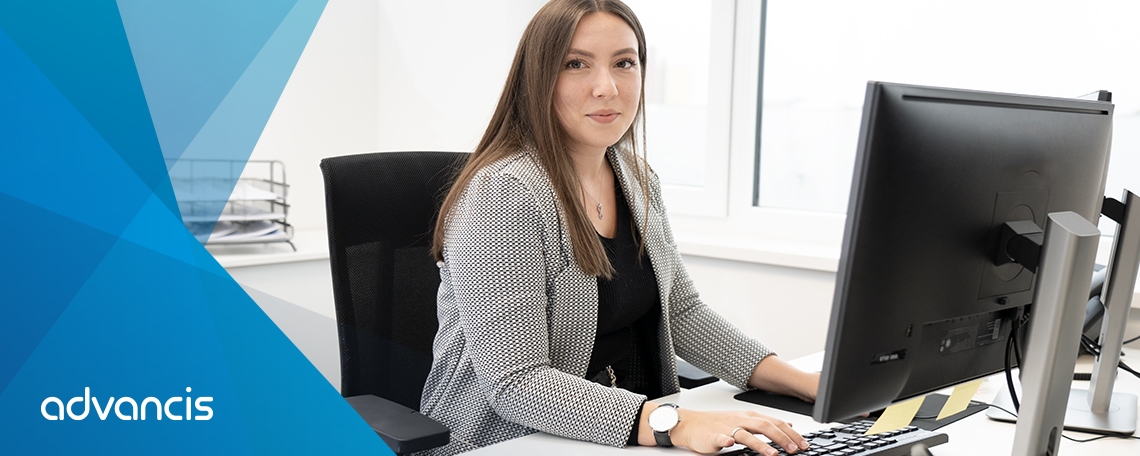 Die Advancis Software & Services GmbH entwickelt seit über 25 Jahren erfolgreich Softwarelösungen. Als weltweit agierendes Unternehmen sind wir Marktführer im Bereich der Sicherheitstechnik und Gebäudeautomation. Unsere Software wird in über 70 Ländern zur Visualisierung und Steuerung sicherheitsrelevanter Anlagen eingesetzt.

Zum nächstmöglichen Zeitpunkt suchen wir einen Mediengestalter/in Digital und Print - Beratung und Planung (m/w/x) für einen unserer Standorte: in Langen (Hessen) oder in Dublin (Irland).

Unser Marketing konzentriert sich auf die Außendarstellung unseres Unternehmens und um die zielgruppengerechte Vermarktung unserer Software-Lösungen. Dazu gehören insbesondere der Unternehmensauftritt bei Messen und Veranstaltungen sowie die Kommunikationsmaterialien wie Website, Broschüren und Präsentationen. Neben den erforderlichen Qualifikationen und Fachkenntnissen sind für uns Einstellung, Kreativität, lösungsorientiertes Denken, Engagement und Spaß an der Aufgabe entscheidend. Sie sind Teil eines vierköpfigen Marketing-Teams und arbeiten darüber hinaus mit den Advancis-Landesgesellschaften (UK, AT, NL, Middle East) bei der Umsetzung von lokalen Marketingmaßnahmen.

Advancis Software & Services GmbH has been successfully developing software solutions for over 25 years. As a globally operating company, we are the market leader in security and building automation. Our software is used in over 70 countries for the visualisation and control of security-relevant systems.

For the next possible date, we are looking for a Digital and Print Media Designer (m/f/x).
Location: Langen (Hessen) Germany, or Dublin, Ireland.

Our marketing focuses on the external presentation of our company and around the target group-oriented marketing of our software solutions. This particularly includes the company's presence at trade fairs and events as well as the communication materials such as the website, brochures and presentations. In addition to the required qualifications and professional skills, we consider attitude, creativity, solution-oriented thinking, commitment and enjoyment of the role as decisive. You will be part of our four-person marketing team and will also collaborate with the Advancis area representations (UK, Austria, Netherlands, Middle East) with regard to the implementation of local marketing activities.
Ihre Aufgabe/Responsibilities
Entwicklung eigenständiger Ideen für die Visualisierung von komplexen Fachthemen
Professionelle Gestaltung von Präsentationen in MS PowerPoint
Gestaltung und Erstellung von Marketingmaterialien bis zur Druckvorstufe: Broschüren, Anzeigen, Werbemittel
Betreuung und Pflege unserer Webseite, Social-Media-Kanäle und weiterer Portale (z. B. Intranet)
Umsetzung von Online-Marketing-Aktivitäten und SEO-Maßnahmen
Gestaltung und Versand von E-Mail-Newsletter
Erstellung von Produkt- und Schulungsvideos
Mitgestaltung der grafischen Benutzeroberfläche und Erstellung von Designelementen für unsere Software-Plattform WinGuard
Development of own ideas for the visualisation of complex specialised topics
Professional design of presentations in MS PowerPoint
Design and creation of marketing materials up to the preprint stage: brochures, advertisements, promotion materials
Support and maintenance of our website, social media channels and other portals (e.g. intranet)
Implementation of online marketing activities and SEO measures
Design and sending of e-mail newsletter
Creation of product and training videos
Co-design of the graphic user interface and creation of design elements for our software platform WinGuard
Ihre Qualifikation/Qualifications
Abgeschlossenes Studium oder Ausbildung im Bereich Grafik-/Medien- oder Kommunikationsdesign
mindestens fünf Jahre Berufserfahrung in den relevanten Bereichen
Sehr gute Kenntnisse im Webdesign (HTML, CSS, WordPress) und Online-Marketing (Google Analytics, Sendinblue)
Sehr gute Kenntnisse im Umgang mit der Adobe Creative Suite (InDesign, Photoshop, Illustrator) und MS Office
Gute Kenntnisse in der Bearbeitung von Videomaterial (Adobe Premiere Pro und After Effects)
Kenntnisse in gängiger 3D-Software von Vorteil (Cinema 4D o.ä.)
Kreativität und ein gutes Gespür für Typografie und Gestaltung
Selbstständige, effiziente und strukturierte Arbeitsweise sowie sehr gute Kommunikationsfähigkeit
Deutschkenntnisse auf C2-Niveau sowie Englischkenntnisse auf B2-Level
Completed studies or internship in graphic/media or communication design
At least five years of professional experience in the relevant sectors
Very good knowledge in web design (HTML, CSS, WordPress) and online marketing (Google Analytics, Sendinblue)
Very good knowledge of Adobe Creative Suite (InDesign, Photoshop, Illustrator) and MS Office
Good knowledge of editing video footage (Adobe Premiere Pro and After Effects)
Knowledge of common 3D software is an advantage (Cinema 4D or similar)
Creativity and a good feel for typography and design
Independent, efficient and structured way of working as well as very good communication skills
German language skills at C2 level as well as English skills at B2 level
Benefits
Modernes, attraktives Arbeitsumfeld
Eine offene und dynamische Unternehmenskultur
Spannende Aufgaben im hochmotivierten Team
Vielseitige Entwicklungsperspektiven, Förderung der fachlichen und persönlichen Qualifikation
Ein attraktives Vergütungspaket mit Beteiligung am Unternehmenserfolg
Flexible Arbeitszeiten und Home-Office Regelung
Betriebliche Krankenversicherung und -Altersvorsorge
Weiterer Sozialleistungen wie Fitness, Massage, Yoga, JobRad und mehr
Modern, attractive working environment
An open and dynamic corporate culture
Exciting tasks in a highly motivated team
Diverse development prospects, promotion of professional and personal qualifications
An attractive compensation package
Flexible working hours and home office agreement
Company health insurance and pension scheme
Additional social benefits such as fitness, massage, yoga, company bike and many more
Als Unternehmen sind wir in vielerlei Hinsicht anders und gehen oft unkonventionelle Wege. Flache Hierarchien, Eigenverantwortung und offene Kommunikation schaffen bei uns eine besondere Atmosphäre. In modernster Arbeitsumgebung sind Sie Teil eines hochmotivierten Teams und internationalen Netzwerks. Wir haben Spaß am gemeinsamen Erfolg.

Lernen Sie uns kennen!

Advancis is different in many respects and we often take unconventional paths.
Flat hierarchies, personal responsibility and an open communication create the unique atmosphere at our company. In a state-of-the-art working environment, you will be part of a highly motivated team and international network. We enjoy joint success.

Let´s meet!